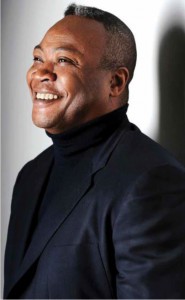 RENÉ'S FOCUS IS ON INSPIRATIONAL LEADERSHIP, CULTURE AND BUSINESS TRANSFORMATION, BOUND TOGETHER BY A COMPELLING PHILOSOPHY FOUNDED ON HIS OWN BOARD LEVEL EXPERIENCE
Extraordinary times demand extraordinary leadership and make no mistake about it; we still find ourselves in unprecedented and turbulent waters. In recent times a good product or service coupled with a good management team was sufficient to ensure success. But in today's aggressive and unforgiving markets they are no longer enough on their own. Business growth has become pivotal in the battle to stay afloat and keep up with the pace.
Progressive, contemporary businesses are learning the hard way that it is leadership and culture that separate the winners from the losers. The race is no longer about being the best; everybody is trying to do that. The winners are those that strive to be unique, special and different.
René Carayol is one of the world's leading business gurus specialising in leadership, culture and transformation, drawing from his own unique experiences on the boards of some of the biggest international organisations; from Marks & Spencer and Pepsi to IPC Media and the Inland Revenue.
Born the son of a diplomat in Gambia and educated in London, his corporate success has seen him travel the world and inspire businesses to make far reaching changes across the globe. In short he is a business guru with unmatched credentials.
He is the best-selling author of the leadership and culture bible, 'Corporate Voodoo' and has had the privilege of working closely with some of the world's best leaders; from former US President Bill Clinton to the seventh Secretary-General of the United Nations Kofi Annan and from former US Secretary of State Colin Powell to Sir Richard Branson.
He is a regular broadsheet columnist and a critically acclaimed television and radio presenter with the BBC and Sky News.
He has provided leadership support to the UK Prime Minister's Strategy Unit, The United Nations and The World Bank, and is now an accomplished visiting professor at Cass Business School. In 2004 he was awarded an MBE for outstanding service to the business community.
René's career has seen him achieve international recognition for his work with C-suites across the globe; transforming the career and profile of some of the world's most exciting and emerging business talents, and taking a plethora of iconic corporations on a journey that has transformed their businesses. René's unrivalled business acumen allows him to chair
and address conferences and business summits across the world.
He asks awkward and uncomfortable questions; how do you change old-fashioned, risk-adverse processes that are ill suited to emerging global markets? How do you secure and nurture the talents of a new generation of leaders? How do you overcome cynicism and complacency, and replace them with resolve?
René has built his reputation on getting to know the culture of businesses better than they do themselves; providing answers and solutions no matter how big or small the problems. His messages are practical, presenting real life experiences with electrifying effect. He both shakes up and inspires his audiences showing them not only what lies within their grasp, but how to keep one step ahead of the chasing pack.
Testimonials
RENÉ IS IN DEMAND ALL OVER THE WORLD AND ACROSS ALL BUSINESS SECTORS; FROM FINANCIAL SERVICES TO NOT FOR PROFIT. THIS IS A SMALL TASTER OF WHAT SOME OF HIS CLIENTS HAVE BEEN SAYING
Google
Rene was instrumental in leading the organisation's global HR team through a change process in which they not only saw a new vision for their work but really felt it at deep visceral level.
ASDA
Your work is full of accurate business insight and really hits the mark.
ING
You really managed to call upon people to move and inspire them to incorporate good leadership within the organisation.
Intel
René brought perspective, content and all the key messages together and ended on a high (at the same time cutting out all the time wasting and unnecessary deliveries that can appear on an agenda).
Visa
René was a powerful and compelling speaker.
Merck
I really cannot find adequate words to express how grateful we are for all that you have given to our team this week.