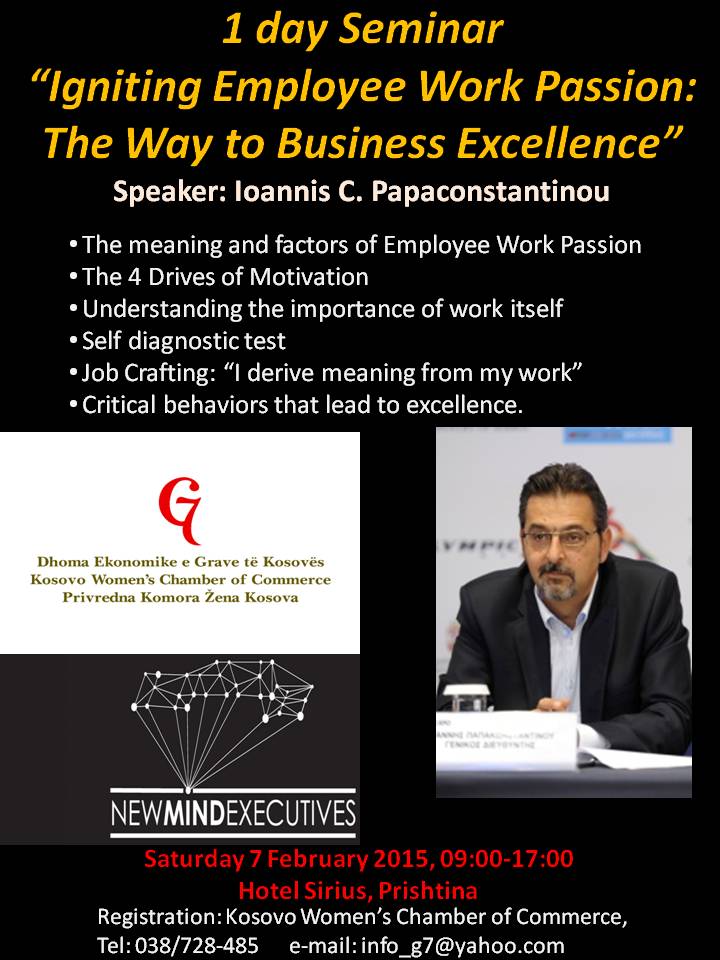 General Info
Today's business environment is characterized by frantic pace, fast changes and extreme turbulence. In order for companies to thrive under these conditions is to employ people that are achieving excellence at all levels. This responsibility lies mainly in the hands of the business owners and managers. However, employees have their role to play. Key to success is that everyone in the organization must deliver with passion. A taboo word not often used in organizations. Nevertheless we love with passion, we dance with passion, why not work with passion? The aim of this seminar is to present a comprehensive and practical model of creating work passion through the application of specific tools and behaviors.
Who is it for:
Business owners, CEOs, COOs, General Directors, Middle Managers and anyone who wishes to deepen his/her knowledge on the most up-to-date issues concerning employees' achievement of excellent performance.
Learning outcomes:
Participants will be able to:
1. Deeply understand the factors that create employee work passion.
2. Adapt and apply the model to the needs of their working environment
3. Use the Job Crafting model in their working environment.
4. Exhibit high performance behaviors.
5. Lead their company/team to excellence.
Learning Methods:
Active Learning; Short Case Studies; Audio-Visual; Group Analysis; Qualitative Discussion and Presentation
Contents:
The meaning and factors of Employee Work Passion
The 4 DrivesofMotivation
Understanding the importance of work itself
Self diagnostic test
Job Crafting: "I derive meaning from my work"
Critical behaviors that lead to excellence.
Instructor: Ioannis C. Papaconstantinou, Owner-CEO.
Ioannis is an economist with a Masters Degree in Management from the University of Kent at Canterbury (UK). He has 20 years of successful experience in key positions in important organizations in Greece. Among others, he has served as Director of the Exports' Research and Studies Institute, as Special Consultant on Organizational Restructuring and Privatization at Thessaloniki Port Authority, and for 11 years he was the General Director of Helexpo S.A., the National exhibition and conference organizing company of Greece. During his professional career he has been constantly teaching at the Executive MBA of the University of Sheffield as the Unit Leader of the Unit "Organizational Behavior". He has been ranked among the top 3 lecturers of the program for the last 20 years and he is considered to be highly motivational and inspirational. Ioannis has co-operated with Charles Handy, Rene Carayol and other prominent authors and speakers and he has participated as a guest speaker in various congresses in South-Eastern Europe. He has presented seminars and workshops for an array of organizations and institutions such as M-Tel, The Ministry of Health of F.Y.R. Macedonia, Agricultural Bank of Greece and the Exporters' Association of Northern Greece. He delivers executive education programs on Behavioral Decision Making, Leadership, and Motivation.
Date & Venue
February 7, 2015.
Hotel Sirius Prishtina
Attendance Fee:
Individual: 110.00€/person
Group Participation (3+ people): 85.00€
Application:
Applications for participation can be obtained by the Kosovo's Women Chamber of Commerce.
e-mail: info_g7@yahoo.com
Tel. number 038/728-485